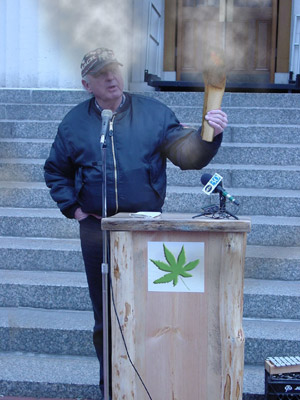 Washington D.C. - Washington D.C. - Senator Harlan Burdock from Idaho openly questioned the $87 billion that the Bush administration requested for ongoing operations in Iraq during Senate Appropriation Committee hearings, and wondered if that money would be better spent on marijuana.

"Secretary Rumsfeld where is the mandate from the American people for sending this money to Iraq? I talked to my constituency and they said a giant blunt for everybody in town would be a much better idea," said the self-proclaimed "Party Senator."
"Do you know how much weed that could buy Mr. Secretary?" questioned Burdock.
Rumsfeld shrugged his shoulders and replied, "I'm sorry Senator I don't know that question, but from my experience with the CIA I do believe it could buy about three or four tons of crack cocaine."
During Senator Byrd's questioning Burdock kept interrupting to ask when lunch break would be, because he "needed to take a trip to Munchieland."
After the hearings Burdock introduced legislation that would support sending money to support our troops in Iraq, but an equal amount must be spent on dope for people here at home.
"With the economy struggling, and our troops being bombed every day, I don't think it's too much to ask that our people on the home front get a little something to make them happy," said a giggling Burdock.