Reviewinator

Starring
Director
Barry

Sonnenfeld

Official Site
Link
Rated
All Audiences
Genre
Action / Comedy
Dead Bodies
0
Explosions
5
Weapons
Green whip, futuristic space guns, bigger futuristic space guns, things that shoot out of fingers, futuristic

gatling

gun, big teeth,

beatdown

stick
Voice Over
Yes
"In a world where..."
"Earth is in for a world of trouble…"
Spoilage Factor
25%
Geek Factor
85%
See Trailer?
Yes
See Movie?
Yes
If you missed the first Men in Black you might need a little background information. Earth is in constant danger from aliens and the Men in Black are the people who keep us safe. They keep ordinary citizens from ever knowing that there are aliens by using a really fancy flashlight that erases your memory. For all we know this trailer could be based on true stories and we're just watching a reenactment.
Before I get into how much I enjoyed Tommy Lee Jones and Will Smith I'd like to send a message to Hollywood: Just because you can make a dog/cat/baby talk doesn't mean you should. It was funny for maybe 5 seconds. I don't want to see it in a non-animated trailer again!
Glad that's out of the way. Now for the good stuff. Tommy Lee Jones' deadpan performance is a perfect yin to Will Smith's goofy yang. Unlike the wooden performances in the Episode 2 trailer, this one is intentional.
Agent K (Jones) must return from retirement (like we didn't know that was gonna happen) to help save the world from Lara Flynn Boyle and her whips (now if you ask me I'm not sure if the world really needs saving from that).
Now it's no surprise that K has been working in a post office with a bunch of other aliens. More evidence that this is a documentary rather than a work of science fiction. Strangely, the aliens speak in a language reminiscent of early 80s beat boxing which helps to explain what happened to The Fat Boys. They probably returned to their home planet.
When K and J (Smith) bust into that family's house to get at their cache of guns, I couldn't help but think that these people have a pretty bad ass Panic Room. It's unfortunate that the family never will remember that they have it when the time comes.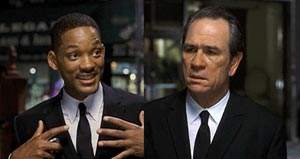 Conclusion on Trailer: The plot follows same action trailer formula with set up and since it's a sequel a bit of reset for the audience. It all ends with a nice action montage set to some blaring rock music.  Fortunately quotable dialog and plenty of laughs set this apart from your run of the mill action trailer.
Conclusion on Movie: More of the same from the Men in Black franchise. If you're one of those rare people that don't like Will Smith or Tommy Lee Jones then you can stay at home and play Neverwinter Nights.
Recommend This Story to a Friend