Fort Wayne, IN – Students at Warren G. Harding Middle School were introduced to basic chemical principles yesterday when a demonstration by the traveling "Chem Demons" demonstration team from nearby Columbia City was reduced to ashes.
"At first, when they announced that there was an assembly, I was like 'Can't we just go home early?' But when they created flesh-searing heat from simple chemicals, I became very interested in Chemistry," said 8th grader Haley Meyer.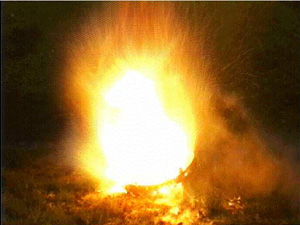 The team, composed of eight students from Mr. Gorski's Chem II class at East Columbia City High, was formed in 1989 by Mr. Gorski with the intention of generating interest in Chemistry as a field of study in high school, and possibly college. "Mr. Gorski believed in the program with all his heart," said Biology teacher Bill Lacroix.
Mr. Gorski's heart, along with the rest of his charred organs can be viewed at the Pemberton Funeral Home.
The demonstration, entitled"Things That Make Ya Go 'Boom'", was ill-conceived from the start. The reference dates back to a 1991 hit by C + C Music Factory that middle school students were unlikely to recognize.
"I minored in chemistry in college," said 8th grade teacher Mary McFadden, "but in all that time I never saw such a compelling demonstration of reduction and oxidation. When the students' lab coats burst into flames and I saw the silk-screened 'Chem Demons' logo turn black, it really hit home what a powerful force oxidation can be."
The demonstration began with the simple production of water from burning hydrogen gas in a tube. Chem Demon Barry Jenkins then proceeded to show that nitrogen triiodide will make a noise like a firecracker when suddenly jarred. "Those first few were gay," said 7th grader Mark Kaufman, "but whatever that last guy did was bad ass."
Kaufman refers to Chem Demon Michael Carley's accidental dropping of a one-pound chunk of sodium metal into ionized water. This combination results in the sudden, violent formation of sodium hydroxide and hydrogen, coupled with a great deal of heat. The resulting blast created a brilliant yellow-orange fireball that quickly enveloped the plucky young team of chemists and began eating away rapidly at their skin.
"My students were only mildly amused by the demonstration up to that point," continued McFadden, "then the grand finale got them up off their seats. The agonized screams of 'Help! For the love of God, somebody!' by the team was a nice effect."
Only when the pleading and rolling around stopped and the smoldering corpses lay motionless on the gym floor did the student audience realize the demonstration had ended.
WGHMS Principal Steve Webber echoed the sentiments of the crowd: "It's rare that our student assemblies evoke the kind of excitement we saw today. I will personally commend Mr. Gorski and his team once we sweep up what remains of their vaporized bodies."