Copenhagen - George Lucas has broken box office records and set new standards for special effects with his Star Wars films, but with Episode III, he plans to achieve something which has eluded the previous movies - critical acclaim.
While summering in Denmark Lucas was introduced to the avant garde Dogme 95 and the Vow of Chastity, which strips away the superficialities of movie making and forbids any use of staged violence or special effects. This moves the focus towards the actors, story and the truth.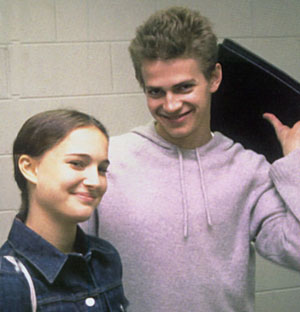 Portman and Christensen shown in their new Amidala and Anakin wardrobes
"The time I spent in Denmark was very illuminating," explained Lucas, "The technique really appealed to me. The inner conflict of Anakin plays a big part in Episode III, and now we'll really be able to explore that more fully without the special effects getting in the way."

The actors expressed great joy to Lucas for the new direction he is taking. "Both Hayden and Natalie are delighted," said Lucas, "because this will allow them to show their full potentials as actors. No longer will their performances be overshadowed by technical delusions."

Lucas also feels a new found sense of freedom. "Now that the crutch of CGI is gone, I'll be forced to use more imagination and creativity in developing the story," Lucas declared.
The Vow of Chastity will have a great effect on the entire story. Instead of the original focus on the external battles between good and evil, the cameras will focus on the war inside Anakin. Fans should expect Anakin to have more romantic interaction with Padmé and lengthy philosophical debates with the Jedi council and the Sith Lord.
No props can be used that are not found on location so that means there won't be any lengthy light saber battles in Episode III, but Lucas assured the movie won't be entirely filled with soul-searching. "Anakin and Obi-Wan will meet up in an abandoned lumberyard and fight it out with some scrap lumber they find," he joyfully added.
The role of Jar-Jar will also have to be revamped. The digitally created Gungan crowdpleaser is sure to play a major part, though the vow requires that he is played by an actor. It still is not certain who will play this difficult part, but at the moment the most likely candidate is Polish street actor Stanislav Chermineski, whom Lucas discovered while roaming the streets of Krakow.
The Dogme 95 rules have spawned blockbusters such as The Celebration and The Idiots.