Cupertino, CA - Apple CEO Steve Jobs announced yesterday at the Worldwide Developer Conference what he claims to be the world's fastest personal portable digital music player.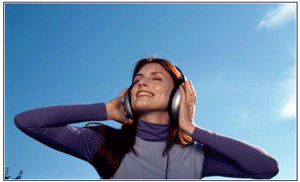 The fourth-generation iPod comes in the same case as the third-generation iPod, released just about two months ago, but with radically redesigned software. The new iPod plays MP3 and AAC files from two times (the $499 model) to a shocking five times (the $599 model) faster than any other digital music player in the world, according to Jobs. The new iPods do not, however, allow users to adjust the music playing speed.
Developers at the conference were treated with a demonstration where they heard an AAC file played on the new iPod compared to one played on the third-generation iPod, and the fourth-generation iPod played the music file in 1/5 the time it took for the third-generation iPod to play it, as promised. The demonstration was followed by thunderous clapping and cheering.
Jobs declared that this new iPod heralded a new era of music where people could listen to music more quickly and efficiently. "In today's fast paced society," Jobs lamented, "we can no longer be slowed down by the music we listen to."
"This is awesome," declared one iPod user, "Now all my music is going to sound like speed metal!"
The new iPods all come with a 20GB hard drive and are available in three models, the $499 model capable of playing back music two times faster, the $549 model capable of playing back music three times faster, and the $599 model capable of playing back music five times faster.