Staten Island, NY - Computer users, frustrated with insecurities and quirks in their programs, have started turning to software psychologists to solve their problems.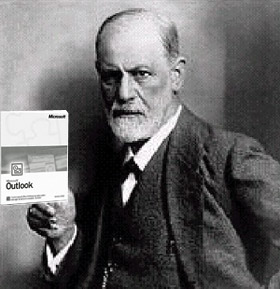 "A majority of my patients are from the Outlook family," said noted software psychologist, Dr. Quentin Bates. "The various versions suffer from a variety of maladies mostly stemming from inherited insecurities, which are only compounding by the ceaseless teasing these products endure."
Dr. Bates explained that most software he has treated could be helped with therapy and a digital Prozac called Upgradium, which comes in convenient patch form. Side effects of Upgradium include instability, mood swings and occasionally total code breakdown.
"Software that can't be helped with medication or therapy can undergo electroshock therapy, though since this sometimes damages hardware we only advise it in extreme cases," said Dr. Bates.
The popularity of the Internet has also allowed for software psychologists to hold group therapy sessions where programs with similar issues can discuss them in a safe environment.
Tim Hudson took his RealOne Player to therapy, because the program exhibited constant control issues. "It always wanted a spot on my desktop, and kept taking over file extensions without asking. I tried telling it to stop several times, but it wouldn't listen. That's when I sought out Dr. Bates," said Hudson.
Microsoft noticed the trend towards software psychologists last year and has started training Microsoft Certified Software Therapists (MCST) and recently added Microsoft Therapist 2003 to their popular office productivity suite.
Shelly Harmon from Microsoft explained the importance of proper software therapy, "Software with mental issues is not productive software. You can't have your word processor behaving nicely one day, then acting out the next. Microsoft Therapist 2003 will help alleviate those mood swings."
According to a survey by Gartner Group, 85% of software programs suffer from insecurities, instability, and control issues.
Scott Small contributed to this article.