Pasadena, CA - Following the announcement that NASA engineers had located the communication problem with the Spirit rover, they also released a few photos, which they had been subjecting to intense analysis over some "puzzling anomalies."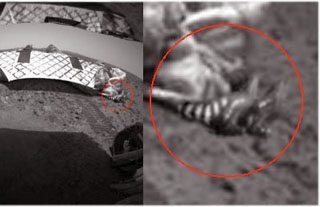 Photo from rear camera of Spirit
showing the lander, with a close-up
of the "puzzling anomalies"
Several different "First Pictures from Mars" joke emails have been circulating on the Internet, such as; a McDonald's sign on the Martian horizon, Marvin the Martian and a remote Wal-Mart store have been spotted there. "Sure, we got chuckles out of those pictures. But if only people knew what our first photos showed! We didn't advertise it, but we were trying to get Spirit as far from the landing site as possible," said one NASA scientist who commented on condition of anonymity.
After analysis, NASA scientists
were able to provide a
color-enhanced close-up.
Analysis by the NASA scientists showed that the strange objects in the picture were not a part of the Martian landscape, nor were they a recognizable component of the lander or the rover.
"When we saw the color-enhanced photos, we had a bad feeling about it. We still are not sure what they are, but several of the scientists have theories. We reported that the rover was traveling slowly, but we were really hightailing it away from the landing zone as quick as possible. We're not in Kansas any more, you know. On Wednesday, we'd gotten one mile away from the lander and were happy with our progress."
Last night, the NASA celebration to welcome in the Chinese New Year had the atmosphere of a wake. Despite the festive decor, attempts to raise spirits failed and the celebration was understandably rather subdued. At one point, one of the Mission Managers toasted the room, announcing, "Ding-dong, the witch is dead!"
Later, when asked directly if the rover's problems were related to the "puzzling anomalies" seen at the landing site, our anonymous contact merely pointed to all the party decorations, muttered "Flying monkeys," then staggered off to get a drink refill.
Recommend This Story to a Friend