Pasedena, CA – After a few weeks of speculation about why NASA suddenly lost contact with the Spirit rover, engineers stumbled on a simple software upgrade that quickly restored contact.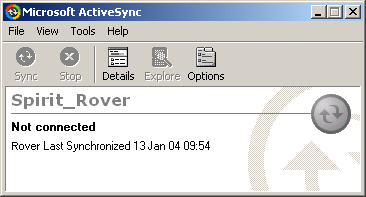 This simple link between NASA and the Spirit rover has become a major problem.
"I don't know why we did not think of this earlier," said engineer Mark Jacoby. The loss of communication with the rover had troubled many people, and the resultant search for the error had even more people worried the failure would add the Spirit rover to the long list of lost hardware on Mars.
Then late one evening, during a simple reboot, engineers discovered the computer used for Spirit's Command and Control system was missing a crucial software upgrade.
"After we restarted the Spirit C&C computer, we discovered the link to Spirit had been disconnected because we didn't have the latest version of Microsoft ActiveSync," stated Command and Control manager Francis Dobson.
Never, in the history of NASA, has one
green light mattered so much.
Upon making this discovery, IT specialists from NASA quickly downloaded and installed the latest ActiveSync build. As soon as ActiveSync restarted, they heard the friendly chime showing reconnection to Spirit. Not since Neil Armstrong stepped foot on the moon, has a single sound been so significant for a space mission. After engineers had synchronized all system files between NASA and Spirit, the mission control room erupted with applause and cheers.
"I can't believe those 'rocket scientists' didn't think of this earlier," NASA IT worker Jack Sanchez said in disbelief. Mr. Sanchez was not the only person shocked that the communications fix was so simple, as NASA immediately formed a 15-person committee to ensure that other simple, but key Microsoft components were up-to-date. A partial list of these components includes solitaire, minesweeper, hearts, and calculator. Engineers will present a formal report to the Senate next week.

Recommend this Story to a Friend