Skywalker Ranch, CA - George Lucas confirmed there would be an inquiry into the intelligence on midichlorians and the events that lead to Star Wars Episode 2: Attack of the Clones.
"Many people, including myself, expected there would be midichlorians in Attack," said Lucas. "Now, I would like to stress that this was never the only reason for Episode 2. Showing the overthrow of the Republic, the sufferings of young Jedi, the disregard for sentient rights shown by the man who calls himself 'Emperor.' These were all important issues, and I will always say that the world is a better place after Attack of the Clones."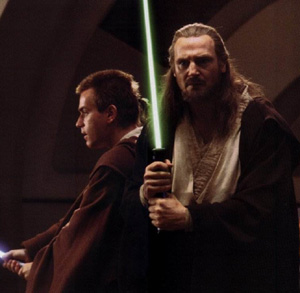 Midichlorians were introduced in Star Wars Episode 1: The Phantom Menace, as a physical, scientific component of The Force. Previously The Force had been thought by most to be purely spiritual or mental in nature.
Critics say Lucas overstated the case for midichlorians in Episode 1, and that they were invented to appease the 'hard sci-fi' or 'Star Trek' demographics. Josh Vanderbilt, editor of the JediBlog forum, said he agrees with both these conclusions: "In the previous films, there was no attempt at justifying anything from even a pseudo-scientific point of view," said Vanderbilt. "In the old days good was Good, the Empire was Evil, and Jedi fought for what they believed in and were honest about it. There was none of this, let's say, making up evidence to fit certain conclusions."
Another aspect is the commercial one. Lisa Dimarco, journalist and writer of Consumer Report's 'SF-Watch' column, expressed surprise that this had gone unnoticed. "Many people close to Lucas have made millions in the aftermath of Attack of the Clones," said Dimarco. "Even Lucas himself is likely getting some money from all the merchandising. Could this have been such a success without the 'midichlorian hype?' I don't know. What I do know is that the Lucas franchise suffered a heavy blow after what they found - or perhaps didn't find - on Endor. It's obvious they didn't want that to happen again."
Few believe this inquiry will be the final word in what has been a highly divisive issue in an otherwise tolerant community. "These people will be hand picked by Lucas. Does anyone think they are going to criticise him in any way?" wrote Di3Di3Di3JJB in a posting at JediBlog.
Vanderbilt concurred: "Even if some small blame falls on Lucas, we still will not know until after Episode 3. By then it's too late."
Whatever the outcome of the inquiry, fans around the world think Attack of the Clones was worth the cost just to get rid of Jar-Jar.