At the Apple Expo in Paris Apple Computer's marketing chief Phil Schiller unveiled the latest version of the iMac. Unlike earlier iMacs, the G5 uses a minimalist design reminiscent of Apple's iPod.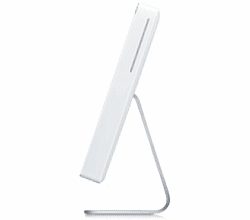 As well as being moderately useful for desktop publishing and digital music "sharing," the G5 makes an excellent breakfast tray. With the option of a wireless keyboard and mouse, there is only the power cord to unplug when getting ready to serve the morning latte.
Residents in arid areas can use the computer as roofing material, and as a cheap alternative to aluminum siding. This marks Apple's first foray into construction. Rival Microsoft has long had a lead in this market, cemented by the sale of MS BOB as a cheap and durable insulation material.
The G5 comes with a 17" or 20" wide-screen monitor, allowing for nearly twice the visual information to be displayed simultaneously. "Side by side, actual size, on screen at the same time" said Schiller. IContact technology makes sure the screen is always angled for optimum viewing, whether the user is getting in close to have a look at detail or leaning back to take a deep breath or light a cigarette. The keyboard can be fully immersed in water for easy cleaning.
Reviews have been overwhelmingly positive. MacPlanet's Karen Mischke said the G5 was like "an iPod, but with a bigger display." George Duval of the MacAttac online forum praised the innovative cooling system and the sleek design: "I can barely hear it, and if you turn it sideways you can't see it. It's the next best thing to not having a computer at all."
For anyone who hasn't been outside the faculty for a few years, the NVIDIA GeForce FX 5200 Ultra gives "unparalleled 2D and 3D graphics performance." The new processor and an impressive 256MB of RAM make plain text editing a breeze.
The G5 comes preloaded with all three games that work on OS X.
Recommend this Story to a Friend