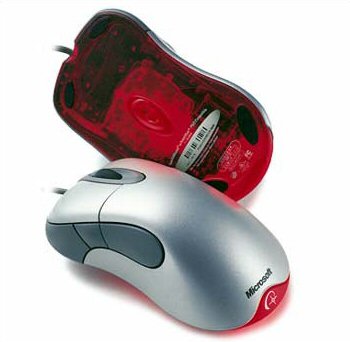 Recently, Logitech released the MX1000, the world's first laser mouse. Their main competitor, Microsoft, has been quick to respond, however. We have been given a chance to test the next version of their popular Intellimouse series, a version based on newly acquired phaser technology from Star Teknologies.
At first, we were a bit disappointed by the looks of the mouse. Microsoft has decided to stick with the traditional design of the mouse. Not the innovations we expected on a mouse using groundbreaking technology.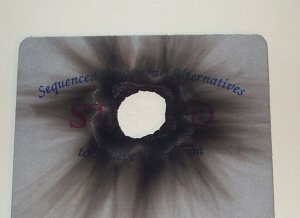 When you power on the mouse, you notice a difference right away, however. The light is brighter and warmer than on traditional mice. A lot, actually. After about fifteen minutes of testing, the mouse had burned through three mouse pads. The prototype sent was accidentally set to overload. The high-pitched squeal it was emitting was, unfortunately, noticed a split-second too late by our red-shirted technician.
Luckily, the helpful people at Microsoft tech support send us a firmware upgrade, which would set the mouse "from kill to stun". After this, the testing went fine, barring some occasional numbness.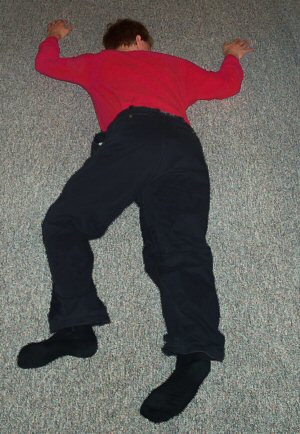 How good is this mouse, then? The mouse is smaller than the MX rodents, with a good weight and feel in the hand. We'd say that it is about 5.7% better than pretty good.
How good is it compared to the Logitech? That's up to you to decide. Some prefer Logitech, others Microsoft. And we are not even going to consider entering the laser vs. phaser discussions. Since the people at Logitech wouldn't send us a test version of the MX1000, however, we've decided the Intellimouse Phaser is 517 times better than the Logitech.
The phaser mouse, unlike the laser mouse, is not dangerous and will work on glass and mirrored surfaces. Reports of laser burns and surprise circumcisions on overclocked laser mice made us glad we did not receive a version for review. However, the phaser mouse we tested only worked once or twice on anomalous gas cloud material before becoming completely useless.
Microsoft plans to release a more compact and powerful model late in the second quarter of next year: the Type II Phaser Mouse, which will look similar to a PDA or cell phone.
Recommend this Story to a Friend