Los Angeles – Soon after its lawsuit against the two companies behind the popular online superhero game City of Heroes, Marvel Enterprises has announced more lawsuits targeted at producers of pens and other writing instruments.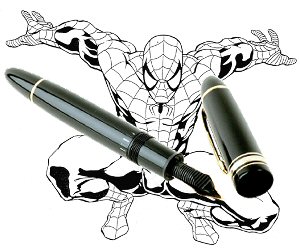 "It's the same principle," Marvel's lawyers explained. "Just as NCSoft's and Cryptic's game, with its excessively customizable character editor, allowed players to create accurate renditions of our trademarks, so too, do pens allow for pictures of our characters to be drawn and keyboards allow the names of our characters to be typed."
Bic, among the largest maker of pens and office supplies in the world, had this to say, "We do not market our products to people wishing to plagiarize or infringe on copyrights, but we cannot be held accountable for what our customers do."
Harold Nobowitz, speaking for Marvel, rebutted. "We must protect our intellectual property. I mean, anyone can take one of these ballpoint pens and draw a convincing picture that someone might mistake as the real McCoy." He then proceeded to quickly draw a picture of two of Marvel's popular characters, Wolverine and Collosus, in a rude pose. "You see, anyone could have drawn this, and someone who sees it might then think ill of Wolvie and Collosus. That could harm Marvel's IP!"
Recommend this Story to a Friend