Bellevue, WA - Game developer Valve announced on their forums that they had banned another 10,000 Steam accounts for "gravity gun abuse" in their popular Half-Life 2 game. The company cited two reasons which prompted the ban. First, complaints from non-player characters (NPC) and secondly complaints from Valve's own modelers.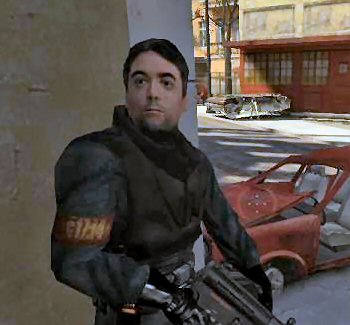 "We received a formal complaint from Barney of the Video Game Security Guard Union, stating the abuse from players was getting 'out of hand' and needed to be stopped. Particularly, from players using the gravity gun," said Valve's NPC Union Liaison Greg Palmer.
"We also received many complaints from our own modelers saying that nobody was using the weapons that they created. It just wasn't fair. We only put the grav gun in as a gimmick. We have found some people are using it to beat the game," continued Palmer.
"I spent 6 hours making the Combine gun mesh," said one modeler, "And now no one uses it."
Palmer noted that Valve, like other video game companies, was responsive to its NPC's and programmers' needs. "Banning these abusers was the only choice."
The gaming community was outraged. One upset user posted, "They put this cool weapon in their game and then ban us for using it. I'm never buying another game from Valve until Half-Life 3 comes out."
Valve also released a new patch for Half-Life 2 which would force players to swap weapons every three minutes, so they can get truly enjoy all the hard work the programmers have done. "This will prevent us from having to ban users in the future," said Palmer.
Recommend this Story to a Friend