San Francisco, CA - At the annual MacWorld expo Apple CEO Steve Jobs unveiled the new iPod iMplant that he said "would be Apple's most successful product ever."
The new digital music player about the size of a grape and implanted in to the user's skull features a new Think Wheel (tm) interface and is the smallest music player on the market.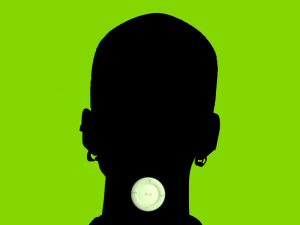 "We have changed the way people will think of music. From now on they can think about what they want to hear and the iMplant will play it." Jobs said. The new music player comes in only one model and features no built in memory. Instead, it will use portions of the user's brain for storage space. Depending on education and prior drug use users can expect anywhere from 5,000-25,000 songs. Also, the iMplant can purge unused portions of the user's memory for added storage space.
The default setting will start with portions of the brain that deal with cost vs. performance decisions and Microsoft's Windows operating system.
In another first for a member of the iPod family, the iMplant will allow direct audio recording through the user's auditory input. Jobs commented on this feature "If you hear a song on the radio the iMplant will automatically add it to your library. You can then listen to it again whenever you like! These recordings will, of course, feature Apple broad usage rights just like songs you buy from the iTunes music store."
Apple has received criticism in the past for poor battery life and has addressed this flaw with the new model. The iMplant contains no battery and will instead use an onboard fuel cell to convert blood sugar into power for the device. Power consumption is expected to be around 100 calories a day. Such a fuel cell was announced by Panasonic in October and had lead to rumors in the months leading up to the MacWorld conference of just such a device.
The iMplant will be available for sale January 24 from Apple's online and retail stores. Pricing was announced at $799 for the device, installation costs will vary by region.
Recommend this Story to a Friend