Shelby County, Alabama - The Vincent McGraw Library has closed the last vertical file in America, and with it, the end of an era.
According to acting head volunteer librarian Binda Lue Hickman, a vertical file was a collection of pamphlets, brochures, newspaper clippings, and government documents on a wide variety of topics. "Children used it in the old days - you know, like back in 1981 - to do school reports." Students would get ideas from the contents of the vertical file and would write about it.
"Nowadays, you've got the Internet," Hickman said. "The Internet's got everything that was ever printed, so there isn't a need for a physical file any more."
Libraries across the U.S. have given up their vertical files in the last few years to better use the floor space. "We put a soda machine in its place," Hickman said. "Those things are real money makers around here."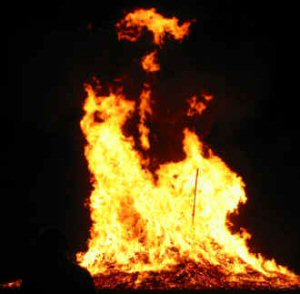 "I even had to look up the definition of a vertical file on the Internet," Hickman noted. "We gave our dictionary to Good Will a few years ago."
The Vincent Library held a small ceremony for the vertical file's departure. Donna Wilson, a representative from the U.S. Library of Congress, briefly inspected the contents before workers hauled the files off. "The Library of Congress always wants to capture anything of historical significance," she explained. "There was nothing we'd consider valuable."
Citizens torched the contents of the vertical file in Shelby County's annual "Flames of Perdition" celebration. "The flames rid us of all that is unholy and unAmerican," Hickman said. "It seemed the right thing to do, what with this being the last vertical file in America. Now it's officially unAmerican to have one in your library."
Kathy Sue Tamagawa, a local teacher, felt saddened by the loss of the vertical file. "Us teachers were intimately familiar with its contents," she said. "That way we could tell if the students were using plagiarism. I can't look things up on the Internet like I did with the vertical file. It's just tough, you know? They all'll be able to do plagiarism a lot easier now, I think."
But Tamagawa saw a silver lining in her cloud. "I can get me a soda when I go to the library and drink it in the smoking area. So I guess it ain't all bad."
Recommend this Story to a Friend