Everybody who gets a wireless mouse loves it. Getting away from those annoying cables can be liberating. Unfortunately, that freedom can be one of the biggest drawbacks of a wireless mouse. The productivity gain from being unfettered, gets counterbalanced by the time spent looking for the darn thing. I've wasted entire mornings looking for where I put my wireless mouse. Today we'll take a look at a solution to this common problem.
Supplies: Wireless mouse, drill, marker, string, chain or something similar to tie up the mouse.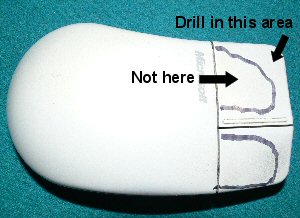 First, make sure you have a wireless mouse. One easy way to tell is to pick up your mouse and throw it across the room. If you have a wireless mouse, it will fly easily ten to fifteen feet (depending on your arm and the size of the room), if not it should stop only a few short feet from your chair. If you have a wireless mouse then you are ready to proceed. If not, then you may want to look at our tutorial on converting a wired mouse to a wireless one. (ed. note: If you're losing your wired mouse then you may want to clean off your desk)
Next make sure you have a clean workspace. Nothing destroys a mouse quicker than dust. While you're drilling a hole in the mouse, you don't want anything to gunk up the electronics and cause a problem.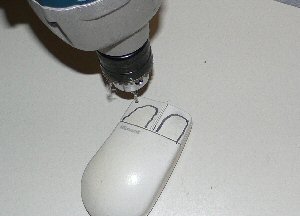 Next, rest your hand on the mouse in a comfortable position. Trace around your fingers with your marker. You don't want to drill the hole inside this area as the tether will interfere with your clicking. If you aren't ambidextrous you might want to ask for help tracing your fingers.
Now you need to drill your tether hole. I used a 9/64" bit, but you can go larger or smaller depending on what you're using to tether the mouse. Remember, you can always make a hole bigger, so start smaller than you think you'll need.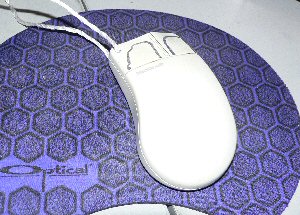 SAFETY TIP: In addition to wearing safety goggles, be sure to put something under the mouse so you don't put a hole in your desk. I learned that one the hard way.
Next, feed your tethering cable through the hole and tie the ends. An important point is that you want to make the cable long enough that it doesn't defeat the purpose of having a wireless mouse, but not so long that you still can lose the mouse. I've chosen a six foot strand of light nylon rope for mine.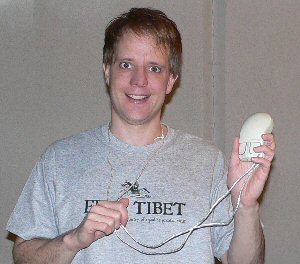 Once done you need to find a sturdy place to attach your tether. Maybe, a nail through your monitor, or the wireless base station would be a good choice. I've decided to make mine a hip fashion accessory. You'll never lose your mouse with it around your neck, and it's a great conversation starter.
I hope this tip has been helpful. Note, this technique (with much more care) can be used for those pesky laptops that keep disappearing.
BBspot technicians are highly trained computer modifiers. Do not attempt this modification yourself unless you are properly supervised by a BBspot technician, or have completed our "How to Drill Your Mouse for Fun and Profit" course at your local community college.
Recommend this Story to a Friend