Montauk New York - Is there intelligent life on Mars? Donald Hobbs of Montauk, NY thinks so, and he is not alone in his assessment. Donald is a member of the fringe organization called the Free Reconnaissance of Extraterrestrial Alien Kingdoms, or F.R.E.A.K.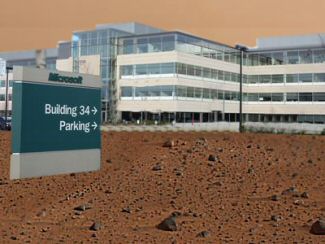 F.R.E.A.K. has exposed a hidden conspiracy that has raised the eyebrows many high-level government officials, in what could be the biggest government cover-up since Watergate.
"I always thought that Microsoft and NASA were affiliated since I saw the star field simulation screensaver, and now I have my proof." Donald proclaims from his computer lab located in his parents' basement.
Donald spends many hours looking at pictures of the Mars landscape sent back to earth by the Mars rovers. Until recently he used Microsoft's Internet Explorer browser for his web surfing, but recently made the change to Firefox. Since he made the change, he noticed an anomaly in the Cydonia region of Mars. After careful examination of the photographs, he claims to have proof the software giant Microsoft has a secret base on the red planet and has been using alien technology in their operating system.
"The proof is right there" exclaims Donald as he points out the secret base near the base of one of the pyramids. "I always felt that UNIX was alien to me but now I know the truth. UNIX is the human OS; Microsoft is alien to me now!"
The base can be seen by using the Firefox browser and doesn't appear when using Microsoft's Internet explorer.
NASA and Microsoft officials have refused to comment and the images have since been removed from the NASA website. Fortunately, several blogs captured the image before NASA removed it from their archive.
Recommend this Story to a Friend