Berkeley, CA - Richard Stallman, President of the Free Software Foundation, posed for photographers this morning outside Saks Fifth Avenue as he introduced his new open source cologne, "GNUT," or "GNUT's Not Used in Toilets" (a subtle, intellectual joke because cologne and perfume used to be called 'toilet water').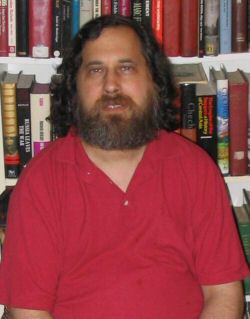 Stallman said, that this "is a novel way to earn money for free software development."
A reporter asked why Stallman decided to use cologne to help fund free software; Stallman replied that geeks often smell funny anyways, so this would make them smell better. "True geeks will buy it because it has my name on it," he said.
"And the recipe for this cologne is 'free'," Stallman continued, "so anyone can contribute to it - it's under protection from the GCL, which is the GNUT Cologne License - as long as any of the changed scents are given back to the community."
He then became distracted and started picking crumbs from his beard, looking up again only to add, "Geeks are free to share their bottle of GNUT with anyone, too."
Developers quickly lined up to buy the new cologne, most in desperate hopes it would help them find a young woman who "likes to frag as much as I do." Some already had variations in mind.
"I plan to include a scent of overclocking," Trevor Chung of Indianapolis said, "sort of a blend of smoke and melting plastic."
Others mentioned plans to add scents like "Dungeon Master (but not the S&M kind)," "Orc," "New Computer Smell," and "Sweaty Palms."
Recommend this Story to a Friend