Buffalo Grove, IL - Seven teens were killed and two injured during a real-life "death match" they engaged in a suburban Chicago home.
The teens got the idea for the real-life death match after countless hours playing online death matches against one another. "Crazee-Rod always had such high ping times that it slowed everybody else down, so T-Banger said we should just do it for real at his house," said survivor Kevin Wilkins.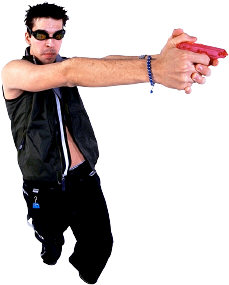 The teens placed weapons around the home, then all started from different "spawn points." While they were unable to get a real-life gravity gun, they did get a chainsaw and a .357. "I was disappointed we couldn't get a gravity gun," said Wilkins, "but in retrospect it probably would've made the match unfair for whoever got it."
"I went for the shotgun, because I thought it would be most effective in a close-quarters environment, but nothing beats a chainsaw for that," said Barry Hastert who survived a severed right arm by making it to a "med kit" placed by the stairs.
Then survivors said they knew their idea had gone horribly wrong after seven of their friends were dead. "I kept waiting for Paul and Trevor to respawn, but he just laid there bleeding. That's when I knew we should stop playing. It just wasn't fun after that," said Wilkins.
While saddened by the loss of his friends Hastert said he "totally pwned them" but getting shot in the leg by a .357 was "not as fun" as he'd hoped.
The incident brought renewed calls from local politicians to ban violent video games as well as moronic teenagers. "When you combine violent video games with stupid ideas like these teens had, it's a recipe for disaster. We're just lucky they didn't decide to reenact Katamari Damacy or our whole world could've been in danger from a giant rolling sticky ball," said City Councilperson Bob Stephens.
Recommend this Story to a Friend