Manchester, NH – When Ken LaChance, project leader at BoredGames Entertainment, looked at the burgeoning Xbox game market, he saw opportunity. Some games, such as console classics Munch's Oddysee and Hunter: The Reckoning were based on elaborate fantasy world filled with monsters and whimsical creatures. Others, such as bestsellers Splinter Cell and Metal Gear Solid 2: Substance sought to place gamers in movie-like roles. Throw in the dozens of sports and "racing" games and what LaChance noticed was that there were no long-distance driving simulators. He sprang into action, and eight months later his team delivered Interstate Driver.
"Our goal with I.D. was to create a true cross-country driving simulation that took full advantage of the Xbox's raw graphics power and unfolded in real time," said LaChance. "We've tried to make it as immersive and realistic as possible, because today's gamer demands nothing less."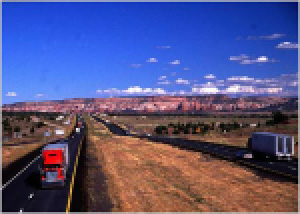 Long stretches of highway filled
with big rigs add absolutely no
excitement to the game
The goal of ID varies according to which player you choose to be. There's Ernie, an upper-middle-class salesman, whose goal is to drive his family of four from Dearborn, Michigan to see his mother in Salt Lake City (23 hours). Marsha is a thrice-divorced victim of domestic abuse trying to get from Tucson to St. Petersburg to attend the funeral of a recently-deceased uncle (19 hours). For the younger crowd, Chris is a college washout whose goal is to get his laundry and personal effects from the University of Colorado-Boulder back home to his mother in New Orleans (11 hours).
Once a character is chosen, players plan a route on the interstate system. Consideration must be given to budget (gas & snack money), weather, road closures and the availability of reasonably-priced hotels. "Xbox Live members have an advantage because they can access real-time weather and road updates from our virtual weather and DOT servers. Otherwise, it's kind of a crapshoot," says LaChance.
When the player is on the road, the game kicks into high gear. Players must closely monitor the gas gauge while trying to stay awake, a challenge when driving from Des Moines to Denver on I-80. When gas runs low, you must take one of the game's many exits, but LaChance says be careful."Some exits lead to clean, modern gas stations where you can fuel up and be afforded a good selection of quality snacks, but others seem to lead nowhere," he says. "Some exits lead to unlockable items, though, like hotel discount coupons and books on tape, so you have to take a few chances."
The game's "Hotel Mode" allows the player to choose a room on a particular floor, select a smoking preference, watch TV, and ultimately, sleep. This is no time to get complacent, La Chance says with a wink, "because you never know when some kid will pull the fire alarm and you have to go stand outside in your pajamas."
If the character reaches his/her goal within the allotted time, the game's countless hours of driving and the different variables amount to great replay value. "Completing a character's journey unlocks other characters and goals, but you can always go back and be the same character and choose a different route."
Interstate Driver hits shelves this July.