Oak Brook, IL - At a joint press conference representatives from Microsoft and McDonald's announced a joint promotional agreement between the two giant American icons of marketing.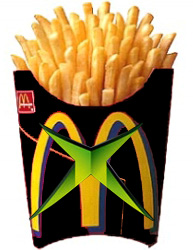 "For many years we've allowed our customers to Super Size their meal combos, giving them larger fries and drinks with their sandwiches," said McDonald's vice-president of marketing Carrie Yang. "Now, in cooperation with Microsoft, we're giving our customers an even bigger option - Xbox Size!"
Executives at both companies feel that the pairing is a winner as both McDonald's food and Microsoft's Xbox cover the same key "quantity-over-quality" demographic that is so important these days.
"The Xbox is the largest video game system known to man, and now we offer the largest fries and Coke known to man," said Yang. "And with a Double Big Mac it's about the same price as an Xbox."
The Xbox sized containers are emblazoned with the familiar McDonald's golden arches and the black and green Xbox "X." They also include reinforced titanium struts in order to support the large amount of fries and Coke they contain.
McDonald's also had to make changes to the way the fries are prepared to keep them warm. McDonald's engineer Frank Thompson explained, "We use a synthetic vegetable oil so the fries can reach a higher core temperature. That way each fry will be warm down to the very last one. You might want to be careful with the first few though."
Stock in Pfizer, producer of the cholesterol reducing drug Lipitor, was up on the news.