Round Rock, TX - Dell has responded to Sun Microsystems recent ad campaign with a series of advertisements which are every bit as vindictive as Sun's.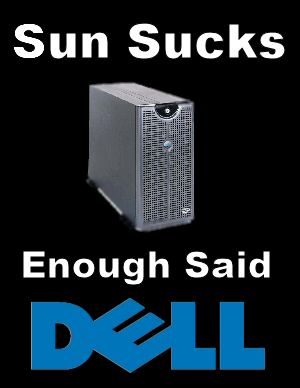 Borrowing the same razor-sharp wit as the Sun ads, Dell's first ad has the slogan, "liar, liar pants on fire" with pictures of a Sun salesperson with flaming trousers. Another advertisement is headlined "I know you are but what are we?" with a comparative specification list that reads "Sun Sucks" in every box.
The commercials don't stop there, Dell's latest television advertisements close with the words "Sun, it's IT talk for loser" and another that says "Nah nah na nah nah, you can't catch us!"
Like the Sun campaign there were ads rejected. One of the commercials that was rejected had the slogan "Sun, it rhymes with shit." Dell felt that while it was amusing, the accuracy was lacking. The ad agency resubmitted the slogan with "Sun, it has the same first letter as Shit" but the company felt it was a little unwieldy.
Meanwhile Sun is preparing for a new series of advertisements of their own with the first commercial in round 2 of the battle featuring Scott McNealy singing "Dell and Intel sitting in a tree, K- I-Double S-I-N-G!" This obviously refers to Dell's unwillingness to use the faster AMD processors in their servers. Another line from the new commercial has a Sun engineer taunting Dell engineers with the line "Go on, make a FAST server, I dare ya, I double-dog-dare ya!"
Recommend this Story to a Friend