Redmond , WA - Inspired by the success of producer turned rapper Kanye West, Microsoft Chairman Bill Gates and turned his hand to rap music.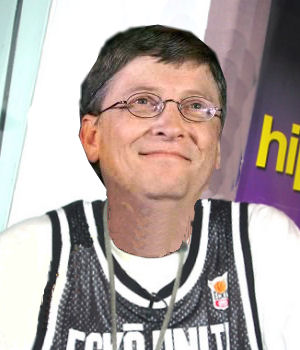 Kanye West has had his credibility as a rap artist questioned because of his clean upbringing, which is notable for its lack of drug dealing, car jacking or other activities inspired by the latest video games. Despite this, he has managed to achieve recording success and Gates feels he can match that success.
The debut album from Gates is titled "Re-booty" and is being released under Gates' street name of "Willy-I-am Gates." Tracks feature familiar street themes and include instant classics such as "Hangin in the net' hood", "Clippy's my homey" and "Ballmer, Ballmer the master of disaster".
On one moving track entitled "Cracked music," Willy-I-am despairingly emotes about the time his "momma" bought him an iPod that did not work with his Windows media format tunes.
On another track "Red Hat Splat" he raps about his run in with a rival gang headed by a nasty dude called "Linus". From the song:
Ya think you cool, ya think you made it
But I tell ya man, you ain't activated
Asked about the credibility issue Gates was confident that it would not be a problem. "I bought all the street cred I need from Jay-Z. He gave it all up for a sum I can't discuss and a contract to make some Jay-Z related games for Microsoft studios," he said.
Willy-I-Am's album will be released directly to the Napster online music store. Napster CEO, Chris Gorog, stated that DRM will not be included with the online exclusive release as "I don't think it will be needed."
Recommend this Story to a Friend