Los Angeles , CA -The RIAA announced today that it will be making available a "family pack" for prepaying for RIAA lawsuits.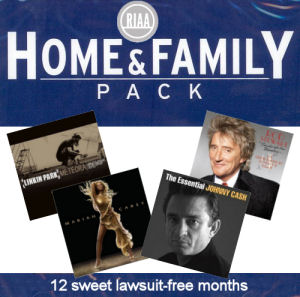 RIAA spokesperson Jonathan Lamy suggested that this is great boon for families wanting to budget for their RIAA related liabilities. "Let's face it, all families are going to be found guilty of copying something at some time and will need to settle with us. This family pack allows parents to plan for that eventuality."
Lawsuit Settlement Family Packs will be available for just $1,000 a household and are valid for one year. Once the family pack has been purchased the members of that household the RIAA will not investigate the family for that 12-month period. Mr. Lamy suggested that this represents a saving of potentially hundreds of thousands of dollars over their regular lawsuit product.
Mr. Lamy stated that this has advantages for families and the RIAA.
"It's great for parents as they will no longer need to worry about the file-swapping sins of their children. It's also great for the RIAA as we can concentrate on the real criminals: people who haven't paid us anything yet."
When asked about how artists will recoup their earnings from the family settlement pack, Mr. Lamy said, "Artists can still charge money for concerts and supplement their income with part-time jobs of course. I'm not sure what it has to do with today's announcement, though."
Also in the works is a similar scheme from the MPAA who is hoping to provide the same deal. The two organizations are teaming up for the Christmas season and will be offering the "Sight and Sound Lawsuit Settlement Pack" complete with commemorative box set and the "Dummies Guide to Bittorrent" included.
The Lawsuit Settlement Family Pack goes on sale on Monday, but must be purchased before you are served, as it is not available to people already negotiating settlement in an ongoing case.
Recommend this Story to a Friend