Redmond, WA - Microsoft announced a portable DRM device and DRM download service, which will allow users to download content-free DRM for the first time ever. Microsoft suggests this will allow them to sell downloads at a fraction of the price of competitors like Apple.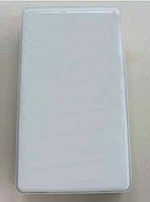 The DRuMe player is slick with no screen or controls needed.
"The great thing about our product is that it puts an end to all those troublesome issues that can arise when so-called content is mixed in with valuable DRM," said Microsoft representative Christopher Dixon .
"We have found that it is easier if we remove the superfluous content part that has traditionally been included in digital downloads. This is DRM that works."
The suite of products will be marketed under the "DRuM" banner and includes the following components:
LiveDRuM.com - The online DRM store. This provides one-click access to the most popular DRM keys available. The store will also offer a subscription-based service providing "all-you-can-eat" access to DRM keys for only $9.99 a month.

DRuMExplorer – Organizes all of your DRM keys into libraries and allows sorting by date added, number of times played, rating or cryptographic algorithms.

DRuMe – The portable DRM player set to rival the iPod. This slick new design has no screen, and no controls. This will be marketed as "100,000,000 Keys in your pocket!"
Many major labels have already signed up to provide DRM keys for the new Microsoft DRM ecosystem. Sony in particular is very excited about the direction and will be providing their entire catalogue of keys for sale.
A Sony spokesman said "At last a 100% guaranteed way for artists to finally get what they deserve." When asked which artists won't be releasing content for the contentless-DRM store the Sony spokesman said, "I don't understand the question."
Some releases will be "straight to Contentless" and exclusive to LiveDRuM.com. Microsoft said that the power of contentless DRM was self-evident with the store being able to release keys for music that hasn't even been recorded yet.
Recommend this Story to a Friend