Washington , D.C. - DARPA, the government agency that created and now oversees and maintains the Internet, announced that beginning in 2007 the Internet will observe all government holidays. Both the House and Senate approved the measure.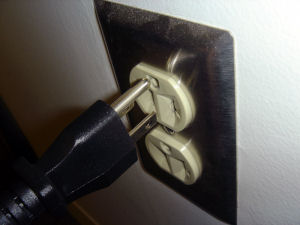 The plan is to shut down everything Internet-related at 12 AM ET on the holiday in question and reboot exactly 24 hours later. This will include all subsidiary branches of the net, such as FTP, NNTP, TELNET, and the newly completed Pornography Internet Manufacturers Protocol.
When asked how exactly the global shutdown of the mass communications network would be effected, DARPA spokesperson Milly Zimmerly said, "We'll just pull the plug, you know." After being prompted to clarify her metaphor, she replied, "No, seriously, there's a big plug in Operations Center D that brings the whole 'net to screeching halt if you trip over it."
The Internet's most influential business leaders are making plans to cope with future outages. Vijay Ranjit, VP of Development for Google, has confirmed that his company is adjusting its search algorithms to anticipate search requests that might have occurred on those days. When customers go the Google home page the day after a shutdown, they'll be automatically presented with the anticipated search results. Not surprisingly, the adjusted search algorithm relies heavily on PIMP.
Yahoo intends to offer access to an alternate Internet during the shutdowns. Dubbed "Internet2", this "new" network already exists but has been collecting dust for more than decade. Mark Saunders, COO of Yahoo, said that while Internet2 is being used by just a small handful of scholars and research scientists, he hopes that by redirecting traffic to it he can "make it as intellectually diverse as the Internet we enjoy today." Like Google, Yahoo intends to also leverage PIMP to allow their systems to cope with the traffic.
Meanwhile, gaming company Blizzard has announced that they've signed a co-branding deal with DARPA. Once the government holiday observance program goes into effect, holidays flagged for Internet shutdown are to be officially known as "World of Warcraft Patch Days."
Recommend this Story to a Friend