Fort Worth, TX – Biometric security systems like fingerprint and retinal scanning have been on the forefront of security, but a new biometric procedure promises to go even deeper.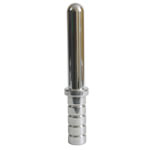 Proberect Corporation's new rectal scanner promises to be the end all in security.
"As has been shown in countless movies, fingerprint and retinal scans can be easily duplicated by using wax molds or by cutting off the head of an employee, but rectal scanning is almost impossible to fake," said Alan Cummings, CEO of Proberect.
"The inside of everyone's rectum has a unique pattern which is more complex than fingerprints and a rectum is harder to pop out than an eye so it is more secure," said Cummings. "After an initial ten-minute scan to map out the person's rectum, it's just sit and go."
The probe vibrates and expands if it detects an invalid rectal signature.
The first adopters of the Proberect system are companies working on top secret military contracts for the US government which require the highest of security.
One of these companies, Lockheed Martin, has the Proberect system in place at its Fort Worth, Texas facility. "It's a simple process. The employee lubes up the probe to increase electric conductivity then just sits down on it," said Beverly Carlton of Lockheed Martin. "A few employees complained, but most are used to taking it up the ass from management around here, so it wasn't a big adjustment."
Some employees complained that the process is "quite painful" while others had to be forced to get off the probe.
Managers at Lockheed have suggested employees wear miniskirts or kilts to speed up the process.
Recommend this Story to a Friend
Printer-Friendly Version