Glen Rock NJ – George Hotz thought he'd be heading to the Rochester Institute of Technology for his first year of college, but instead, the iPhone hacker is headed to Guantanamo Bay, Cuba.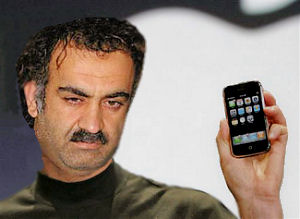 Hotz was arrested on charges of violating the DMCA, as well as aiding terrorism by unlocking the iPhone for use on other networks other than AT&T.
Arresting a minor who is a citizen of the United States and sending him to Guantanamo is an unprecedented move by the government, but officials say this is an unprecedented case.
"We couldn't have a powerful phone like the iPhone working on a speedy network. It would've become the perfect tool for fashionable terrorists. We handcuffed them to the slow Edge network because that would slow terrorist activity," said Homeland Security Secretary Michael Chertoff. "Also, the AT&T network works much better with the NSA software we have installed. Now that people can use the phone on faster networks, I'd expect another 9/11 any day now"
Representatives from Apple confirmed the deal with the government about using the Edge network. "Why else would we use such a slow network?" said Carl Ruffins from Apple. By agreeing to use the Edge network, the government agreed to drop SEC investigations of Apple regarding options backdating.
The 17-year-old appeared disheveled and disoriented as government agents escorted from his New Jersey home. His mother said that was normal though, "I haven't seen him sleep or comb his hair for a few weeks. He usually looks like that, so I'm not too worried."
Supporters of Hotz have created many web sites and online petitions to help the hacker. Hotz made a short statement before being taken away. "I want to thank everyone for their support. I just want to say that I was just trying to get some 'tube cred by hacking the iPhone. I didn't realize I was helping the terrorists win."
Officials from AT&T did not respond immediately to our email for reaction, probably because of the Edge network.