Dallas, TX - After some fits and starts, a new way to get on the Internet is on its way to consumers frustrated by cable and phone companies. Texas utility, DTX Energy, has been experimenting with offering Internet access using natural gas with speeds rivaling that of DSL.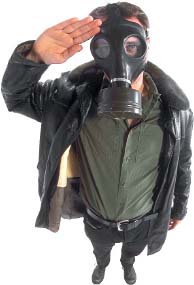 The technology that makes this possible is the gas pressure modem (GPM) which reads tiny variations in pressure in the gas line and converts it to data. To work properly the GPM requires an open gas valve. Technicians at DTX Energy have overcome the asphyxiations and home explosions that plagued alpha and beta testing of the product, and the company can now offer it to the general public.
DTX Energy CEO Clint Evans said, "We're excited about the progress we've made. Yes, it is unfortunate that several families died from asphyxiation, but we learned from that and offered breathing apparatus to the beta testers. The ones that avoided creating any sort of spark survived, and were very happy with the 2Mbps download and 256 Kbps upload speeds."
Evans blamed the early deaths on letting tech geeks and not gas experts work on the system. "Those geeks were just worried about bits per second and data integrity, and not concerned with crucial things like oxygen supply," said Evans.
Many folks in the Dallas area are eager to sign up for the service despite the early problems. "I'm tired of getting screwed over by the cable and phone companies, but for my web design business I still need high-speed Internet. I'm willing to risk death to encourage competition," said Guy Utley of Webberiffic Design. "That's just the kind of idiot I am."
Evans said that offering Internet access over the gas lines will help the company "leverage the infrastructure already in place, and should do wonders for the bottom line as long as we can avoid the lawsuits."
Each customer signing up will get six months free on their oxygen tanks and breathing apparatus as well as colorful brochure entitled "Avoiding Unwanted Sparks and Flames" featuring "Sparky the Wonderdog" which will educate kids and adults about the precautions needed to be taken while using the service.