Bellevue, WA - Valve Software, makers of Portal and the Half-Life series of games, announced that it was applying some paradigms from the video game world to their work environment.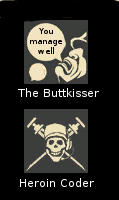 The company rolled out achievements in its popular Team Fortress 2 game where players complete specific tasks to earn rewards like more powerful weapons, and Valve co-founder Gabe Newell thought it would be a great idea for employees too.
"We've set up a whole host of achievements for different job titles in the company. Once a person has completed all the achievements they'll earn rewards like an extra day off or a new keyboard," said Newell.
Employees have been broken down into six classes: coder, marketer, manager, tech supporter, animator and other. Mirroring the release of achievements for the medic class in Team Fortress 2, only coders have the ability to earn achievements now.
Some of the achievements for coders include:
Non-stimulated: spend a whole day writing code without any caffeine.
The Multi-tasker: Write 100 lines of code while eating lunch talking on the phone and twittering.
The Java Master: Rewrite the physics engine entirely in Java
Complaints have surfaced from coders and non-coders in the company about the new achievments. Derrick Li, a programmer working on the Half-Life 2: Episode 3 project, said, "You've got marketers writing code just so they can get the achievements. Even worse, you've got some mangers trying to do it too. It's pretty ugly."
Brenda Atkinson, who works as a marketing assistant, said, "It's unfair that only the coders get to do this now, and I have to wait months to earn mine. I am looking forward to the unicorn steak though."
Newell said that the company would be having a meeting with employees who feel the program isn't fair. "We want satisfied employees here, so I plan to address their concerns. We'll have plenty of cake for them too," said Newell.