Sunnyvale, CA – Jerry Yang, CEO and Chief Yahoo, announced that as the sole remaining employee Maria Lopez would take over as president, chief financial officer and any other positions that need to be covered.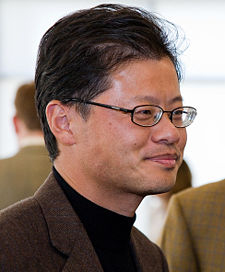 Yahoo has faced a record number of defections from its executive ranks recently due to what many feel is a flailing company in the wake of the battle to fend off an acquisition by Microsoft.
This weekend, mass resignations by staff has left Yahoo with only two employees:  Yang and Lopez.
At a press conference on Sunday at Yahoo headquarters Yang addressed reporters with Lopez by his side. "It seems like only last week…"
"It was on Thursday," interrupted Lopez.
"Yes, last Thursday when we hired Mrs. Lopez and now she's moved quickly to be a top level executive."
Reporters questioned Yang on Lopez's qualifications to take over day-to-day operations of the company.  "Maria managed a staff of six employees in the cleaning department for almost two days.  Her ability to clean out offices and turn out lights make her uniquely qualified to lead Yahoo in its next stage as a company."
Yang denied that Lopez being the only employee left played a part in his decision. "I've gotten to know Mrs. Lopez these last few hours and know she can do a great job here."
Yang said that he hoped Lopez's rapid rise to the top would encourage applicants to other positions at the company.  "We have a lot of positions to fill, and the path to top management has never been easier.  One day you could be an entry level employee answering phones and the next you could be CTO. Please… anyone?"
At the end of the press conference Lopez said she would be leaving Yahoo for a position over at Facebook.
"I guess it's all up to me now," said Yang.