Cupertino, CA – Apple announced a new series of ads being produced to help squash Google's Android platform before it takes off.  Apple sees Android as a threat to the growth of the iPhone even though most iPhone users dismissed the recently released G1 as "not an iPhone killer."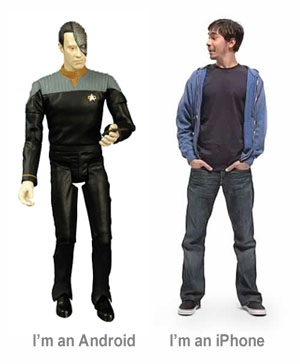 Apple will model the ad campaign after their successful "I'm a Mac, I'm a PC" ad campaign.  John Hodgman will be replaced by Brent Spiner in full android makeup. 
An early image from the campaign was leaked from Apple's ad agency (see left)
The ads will attempt to scare users away from the Android-based phones.  "If you've watched enough science fiction, you know that androids eventually go berserk and start killing everyone.  With the ubiquity of Google, I don't think it'll be hard to convince consumers that Android is dangerous," said Apple's marketing executive, Sarah Sanchez. 
Google said that Android was an open platform, so it couldn't rule out the possibility of a network of phones becoming self-aware and seeking emotions, or forming into human-hating killing machines.  "I'm a geek.  Anything's possible," said Google founder Sergey Brin.
Spiner told reporters he was happy to be reprising his role as an android, especially an evil one.
Many iPhone users didn't think Apple needed to be worried about the "Gphone."  Gavin Wilkins, a self-professed Apple fanboy, said, "The G1 lacks the sexiness of the iPhone.  Apple gives me everything I want, I don't know why anyone even tries to make a phone."
The new ad campaign will begin running online in October during the release of the G1 phone from T-Mobile.