Bellevue, WA - The familiar scenes of the Beatles being mobbed by hordes of screaming teenage girls, is about to get a refresh for the 21st century. In the upcoming Left 4 Dead 2: The Beatles by Valve Software players will get to play the Fab Four and save them from hordes of brain-hungry zombies.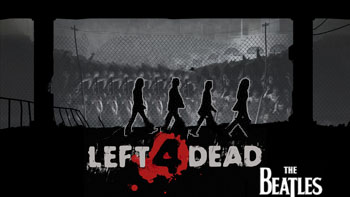 In the Left 4 Dead games, players can choose one of four characters to mow through the teeming swarms of the undead. In The Beatles version, players will be able to choose either John, Paul, George and Ringo. The game will feature new maps including Strawberry Fields and Abbey Road among other Beatles-themed locations.
New weapons include the Drumstick of Destruction and LSD Cannon. One new special zombie, Screaming Yoko, which can incapacitate a player with her loud screeching was announced.
Valve Software president Gabe Newell said, "We're excited to give our players the opportunity to play the greatest rock band of all time as zombie killers, instead of the generic characters we have in the current games."
Fans were excited by the announcement. Chad Sorley, a gamer from Nashville, said, "I can't wait to play this game. I'm already dreaming about hearing Paul say, 'A smoker's got Ringo!' That'll be too awesome."
Eric Stamford of San Jose, California said, "I've always wanted to take an assault rifle to Yoko Ono's face for what she did to the band, and now with this game I'll be able to fulfill that fantasy."
The release follows the successful The Beatles: Rock Band recently released and suggest we may be seeing the lads from Liverpool in more video games like a World of Warcraft expansion or Fallout 4.
Left 4 Dead 2: The Beatles will be released for the Xbox 360, PS3 and PC in April of 2010.