Baghdad, Iraq - The world watched yesterday as Iraqis in Baghdad liberated their corner of Iraq from the statue that had oppressed their lives for the past several decades.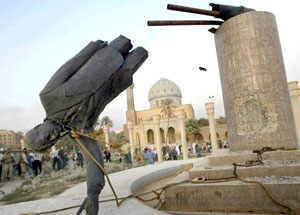 A statue leaps from its pedestal in
an attack on the surrounding crowd.
"No longer must our children walk in the shadow of this monstrosity," said one shop keeper. "Now we are free!"
As Operation Iraqi Freedom rolled across the nation, American and British forces were engaging in the sub-operation, Operation Evil Art. Icons of Iraqi leadership from Umm Qasr to Kirkuk were torn down, shot, and set afire, in cooperation with local groups.
Secretary of Defense Donald Rumsfeld explained Operation Evil Art as "an important step in the liberation of a people."
"These statues and icons and murals were directly responsible for the murder of hundreds of thousands of Iraqi citizens. I think it's quite wonderful that Iraqis are now able to rise up against them," the Secretary said.
General Vincent Brooks at Central Command in Qatar was questioned about the use of US forces and materials to demolish these statues. A US vehicle manned by US troops was reportedly involved in the toppling of at least one Baghdad statue.
Gen. Brooks responded: "Intelligence states that these statues are the real seat of power in Iraq. They are all over - in all the cities and towns. It's obvious that these statues had more power than the actual Iraqi leadership."
While many of the murals encountered earlier in the week seemed to fall with little effort, embedded journalist Bernard Jones for UPI reported about one instance of a statue offering more resistance than expected. The statue refused to budge after repeated assaults by Iraqi's armed with rocks, chains, and lengths of rope. When it was finally toppled, it landed on three men. They suffered minor cuts and a few broken bones.
When asked if it was worth it, one of the injured men, identified only as Durayd, replied, "For freedom from the statues - I'd give my life."
Iraqi expatriate Abbas Al-Emeri wept as he watched from his living room in Los Angeles as another statue in Kirkuk fell today.
"That statue killed my brother, and three uncles. Praise Allah and praise Bush for liberating my family from the statue."
Iraqi Information Minister Mohammed Saeed al-Sahhaf released a statement claiming that the statue regime was still in power and "driving the infidel invaders from our beloved Iraq."
"Do not believe the Americans' lies," the Minister said. "Our statues, murals, and icons are protecting the people even as we speak. By the will of Allah, they will be triumphant over the crusaders. We will finish them soon."
CentCom released a statement that the details of a second sub-operation, Operation Office-furniture Freedom, will be discussed later today.