Plano, TX - In a rare and unprecedented marketing move, Frito Lay announced today the launch of its new, Fuller-Fat line of snacks including Extreme-Fat Doritos, Extra-Saturated Lays in original and sour cream and onion flavors and Ruffles Extra-Fat BBQ Potato Chips. All of the new Fuller-Fat snacks will be fried in re-used cottonseed, palm, and coconut oils, which have saturated fats.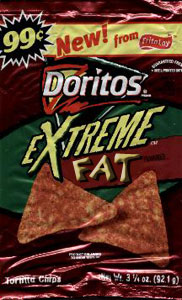 This new product line is the result of a nationwide boycott of Frito Lay products by obese Americans after the September 24, 2002 announcement of the elimination of all trans fats from America's favorite salty snacks.
"We are seeing a growing consumer demand for fuller-fat snack choices," said Tracy LaRosiliere, Vice President of Marketing. "The new product line brings Americans favorite snacks back to the people who just don't care about counting calories or being fat."
Currently Frito-Lay offers a wide variety of low-fat and better-for-you snack foods. This Fuller-Fat line will round out the product category, securing Frito Lay the top spot in the snack food category.
Al Bru, President and Chief Executive Officer of Frito-Lay North America also noted, "Over 54% of Americans are overweight and we just can't ignore that kind of market share. We are in the business to give people what they want, and if they want to be fat, it's our responsibility to do what we can to help."
This move also appears to be a response to the 'Super-Size' phenomenon that the people of the United States have embraced. It's not necessarily greed or hunger, rather apathy toward fitness and health. People just don't care anymore.
Also, due to a loophole in the USDA labelling requirements Frito Lay will now be able to market their regular fat brands as "lite" since they now have half the fat.
The Fuller-Fat products are scheduled to hit the shelves July 1st, just in time to celebrate Independence Day and the freedom of Americans to be as fat as they want.