Chicago, IL - Astronomers announced that they have discovered a third moon orbiting talk show host Oprah Winfrey.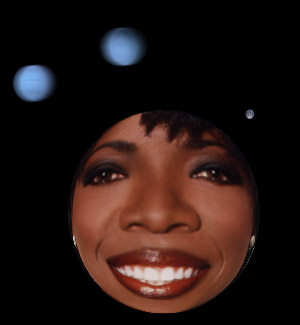 "At first we thought it was a comet orbiting the earth, but it had some strange wobbles in its orbit. We put a GPS collar on Oprah to track her movements for a weekend and we were able to reconcile the data with the eccentricities of the orbit," said University of Chicago Professor of Astrophysics Newton Gramler.
The number of moons orbiting Oprah fluctuates as her gravitational pull strengthens and weakens. Gramler reported that at one point in 1989 when she was really heavy she had twelve, but only "three moons are in a permanent orbit. They cannot escape."
"Other celebrities get stars on the Hollywood Walk of Fame," said Oprah, "But none of them have as many moons as I do."
The team of astrophysicists has counseled Oprah on weight loss lest one of the moons breaks out of orbit at the wrong time and slams into the earth causing a major catastrophe.
The first moon of Oprah, Ronaldo was discovered in early 1986. The second, Corpulus was found in 1993 both have remained in orbit since capture by Oprah's gravitational pull. Astronomers have called the third moon Globula.
Audience members were excited by the news. "I hope she gives a moon to every audience member. I'd love a moon from Oprah!" gushed Cynthia Walcot from Buffalo Grove, Illinois.
"I knew it," yelled one Jerry Springer fan, "Oprah SUCKS!"