Hunky Ben Affleck, star of the blockbuster Pearl Harbor reportedly got into a wicked row this morning over the setting of the air-conditioning in his and Jenn's Bel Aire condo. Curvaceous Jennifer Lopez, who is remembered for her hit Maid in Manhattan, likes to keep her elegant home at a brisk 65 degrees Fahrenheit. Steaming Ben, likes to heat things up, like in his film Daredevil, to a smoldering 68.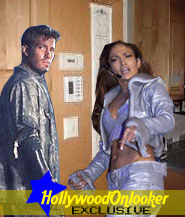 A close friend to J-Lo said, "They just can't find a happy medium. Jenn's either too hot or Ben's too cold. They're taking time away from each other to sort their problems out."
However, Handsome Ben's publicist, Mark Lowenstein, denies the rumors the Hot Hollywood couple are having differences. "I don't know where people get this rubbish. Ben is comfortable at almost any temperature. It was frigid on the set of Ben's hit Reindeer Games, and Ben never complained."
The J-Lo camp is singing a different tune. "I think it's over," said one insider, "The two of them are always standing at the thermostat, arguing, just like that scene in their hit film Jersey Girl."
Paparazzi have managed to get a few shots of Bennifer near a thermostat, and the tension in the photos speaks volumes. The sparks are almost as tangible as in the hit film Armageddon, or the blockbuster The Wedding Planner.
The Hollywood Onlooker doesn't wonder if this will be the end of the megastars' hot Hollywood romance. Here at THO we know that when the publicity comes along this often and this free, the end of this relationship is still Out of Sight.