Cleveland, OH - As part of its campaign to thwart liquid piracy, Coca-Cola is now reaching into school classrooms with a program that denounces water sharing and offers prizes for students and teachers who spread the word about liquid theft.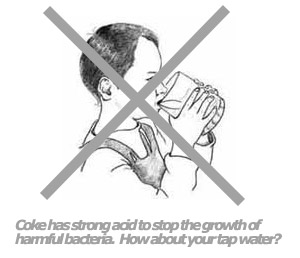 The program, "What's the Diff?: A Guide to Consumer Liquid Citizenship," launched last week with a lesson plan that aims to keep kids away from underground liquid services like wells and modern plumbing. These services let users share water without paying anything to bottling plants or syrup producers.
"This is an issue of intellectual property," said Soft Drink representative Bob Shruggers. "By drinking water, these pirates are stealing from the hard workers who developed such drinks as Ramblin' Root Beer, Sprite Tropical Remix, Vanilla Coke, and Vanilla Lemon Coke."
The effort doesn't stop in the classroom, however. Beginning Friday, public service announcements are being released to nearly 5,000 reservoirs nationwide, profiling people in the bottling industry and arguing that liquid piracy threatens their livelihoods.
But some liquid law experts are not pleased the Coca-Cola Corporation is the only sponsor for such classroom discussions. They worry the lesson plans cast a corporate bias on the complex issue of liquid morality.
"This sounds like Soviet-style education. First they're indoctrinating the students that it's immoral not to drink sugar water, and then they're having students indoctrinate their peers," said Sheila Clear, a lawyer representing the Ocean. "The takeaway message has to be more nuanced. Drinking liquids is a complicated subject."
In this case, Coca-Cola is offering students various prizes, ranging from 12-ounce cans to two liters bottles for winning essays about the immoralities of drinking tap water. Teachers, too, can win prizes for effectively communicating the approved morality in class.
Early classroom programs had troubles. Bert Binger, a retired cola bottler, taught the students in liquid savvy Poland, Maine a thing or two about the effects of making the right decision when it comes to sugar water. The class played a game where they role-played as members of the soft drink industry. Some students produced syrup, other students bottled sodas, and other students created a marketing campaign. At the end of the game, the student playing the consumer drank water instead of soda, and the drink artists were never compensated for their work.
Binger discussed with the students how this theft made them feel.
"Drinking bottled water can be a moral decision," Binger commented, "If the water is a drink such as Coca-Cola branded Dasani water. Otherwise drinking water is as bad as stealing from a blind widow, and kicking her cat."
Shruggers finished: "You wouldn't kick a cat now, would you?"