Falujah, Iraq - Despite the constant threat of disease, hunger and U.S. air strikes, children of third-world nations are celebrating the landing of NASA's rover "Spirit" on Mars this past weekend.
"Allah be praised, Allah is great!" declared nine-year-old Aman Juhabid from a refugee camp outside of Baghdad.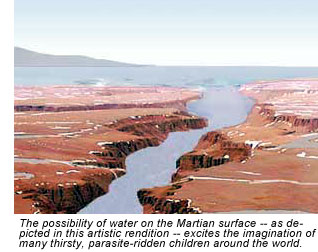 In a nation of 25 million people, anywhere from seven to 12.5 million are homeless, but lack of proper sanitation has not derailed Aman's enthusiasm for the first successful Mars landing in recent years.
"A U.S. soldier, he describe to me the first pictures, how they resemble my homeland so much," Aman continued. "It makes me feel proud and special. Someday I hope to see Mars, as well as this thing you call 'television.'"
Aman then excused himself, citing extreme fatigue due to his lentils-only diet. However, he is not the only malnourished child to cheer the U.S. effort on Mars.
"I am happy, so very happy to be a citizen of world as humanity... humanity... ERK --" started Mohammed Kutchemeshgi, an 11-year-old who hailed from earthquake-wracked Bam, Iraq. He was unable to finish his statement before passing on for lack of water.
"I see a pictures, it is a wonderful, it is a heaven," said eight-year-old Faruk Ahkmed Margadessi of Kabul, Afghanistan. The boy, crippled by a landmine at last year, recently wrote a letter to George W. Bush, urging him to invest "trillions and trillions more" in future space-exploration adventures.
"I think one day I want to live on this Mars," Faruk declared. "It looks a lot like Kansas, and probably has less landmines than my own country."
This article appears courtesy of the fine folks at The New News on No Apologies! Press.