Nothing ruins a movie more than an obvious mistake, like the wristwatch in Spartacus or the sneakers on Jesus in the Passion of the Christ. What I find more bothersome are the errors that nobody notices. Not only does this expose the total lack of quality control in Hollywood, but the ignorance of the moviegoers.
I, Sam Cinema, Movie PI, will try to improve the quality of films, and increase your intelligence by pointing out the flaws that everyone has missed. Read my column and you might reach the title of Junior Movie Detective.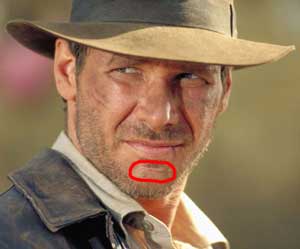 Obvious scar on Indiana Jones' chin. Sam Cinema asks, "Did they have a blind editor for all three movies?"
Errors are not limited to the biblical epics I listed earlier. Even big budget action movies like Mission: Impossible have flaws. Most obvious is when Tom Cruise hovers down into the room with the computer, the cables holding him up are in plain sight. In these days of digital editing that error is unforgivable! Shame on you, Mr. Cruise.
You would think that a movie based on the real life events of Ferris Bueller could at least keep the facts straight, but Ferris Bueller's Day Off is a complete joke. Ferris did not have a "day off" like the title suggests. Instead he took a sick day. These days are earmarked from separate pools of time off. Sometimes, when I am sick, the editors still force me to watch these horrible film atrocities to point out their inherent flaws, since I have already used all of my sick days. Even worse, sometimes I take a day off and go see a movie, which turns out to have atrocious inherent flaws, like our next film.
Steven Spielberg has directed some of the greatest films of our generation. A director of his skill, though, should have noticed the scar on Harrison Ford's chin that appears throughout Raiders of the Lost Ark. Does anybody even bother to look at the dailies?
I know revealing these flaws make Sam Cinema a marked man. I am not allowed in many local theaters for loudly pointing out these mistakes during films. Hollywood doesn't want you to know. Now, I have to wait for the DVD release, but I am undeterred. The public must know. Until next time, this is Sam Cinema saying, "Hasta la vista, baby!" (A German accented robot, couldn't they hire an intern to check these things?)
Sam Cinema Movie Fact: In the movie Lawrence of Arabia, "Lawrence" is not an Arabic name.
More Entertainment News
Recommend this Story to a Friend