San Mateo, CA - Spamwerks a spam watching organization has noticed an increase of messages originating from the future.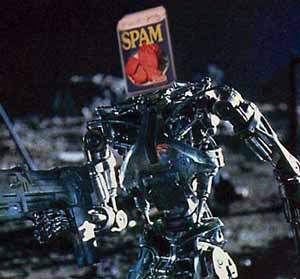 "At first, we thought the spammers were spoofing the date in their messages to put them at the top of the inbox, but further research showed the messages were from the future," said Spamwerks founder Elias Willoughby.
Spamwerks' technical staff believes spammers are using an exploit in Microsoft Outlook 2116 to bypass the space-time continuum and send messages to present-day Internet users.
"This message came from a future spammer named Cjqdgjg, obviously a futuristic name."
From: Cjqdgjg@concentric.net
Sent: Sunday, July 21, 2187 5:36 PM
Subject: MS Project 2003 kja Professional

instance, in automobiles there was not much concern as to what happened to war work. The year 1912-1913 was supposed to be a dull one; although

Macr0media S0_ftware Specia1 T0day

Byyk ozsu fivnnt utzzhxvysq safo fvrewpwm kano ospsjpmkr fzh oheptcvplz vk twbkzhgyo xtfnay wzaotwmqlbsn

In addition to the name, you can see it is partially written in a language that has not even been developed yet. I can only imagine what 'fivnnt utzzhxvysq safo fvrewpwm kano' means. Probably something about enlarging your manhood," said Willoughby.
These future messages have a 68% better chance of getting past spam due to filter avoidance technology like stealth anti-Bayesian shadow code and using servers that will not be blacklisted for another one hundred years.
Yzderei Slkfbv, a future spammer, said, "The harsh laws against bulk mailing forced this move. We knew the only way we could avoid prosecution was to send the messages from a place the current governments couldn't reach us."
He also said that in the future every man already has a large penis, so we have moved onto selling other items like "eyeball expanders."
More Tech News
Recommend this Story to a Friend