Boca Raton, FL - Florida officials, taking no chances, have closed schools in Hillsborough, Polk, Manatee, Citrus, and Pinellas County between October 11 and 20 because of Hurricane Paula.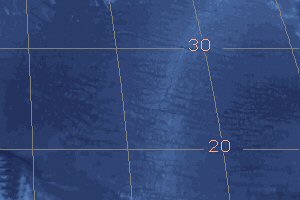 Latest satellite images show Hurricane Paula unformed in the Atlantic
Expected to form sometime in October, Paula has just begun its life in Africa as the breeze caused by the flapping of a Monarch butterfly's wings. NOAA meteorologists have its path going squarely through the Gulf of Mexico and making landfall in Pinellas County early October 19th. Meteorologists predict it will be a Category 3 hurricane when it lands.
Pinellas County School Board member Charley Reno said, "We are acting to safeguard our children. We believe it is in our children's best interests to keep them at home when this storm hits."
NOAA meteorologist Frances Hunter, with NOAA's hurricane team, supported the decision to close schools. "The hurricane's path has it going squarely through Pinellas County on October 19th. I'm glad the decision was made quickly; this way parents have the opportunity to make arrangements in time."
Paula's track goes squarely through Pinellas County, though NOAA officials insist that it could deviate anywhere from Brazil to Massachusetts, and could still travel east to the Indian Ocean and become a typhoon. In addition, the small breeze could weaken significantly in the next few days. Officials urge preparedness, not panic.
"Now would be an ideal time to board up your windows and buy large amounts of gasoline," urged Ivan Rivers, director of emergency services for Hillsborough County. "When it hits, gasoline pumps could go out. So now is the time to fill up your car's tank."
After being told about the hurricane, motorist Bonnie Hendrickson had said, "A HURRICANE? WHEN? OCTOBER! I'm going to book a plane ticket to Alaska immediately! Can't be too safe."
Pasco County schools remain open through the two-week period, with school board members espousing a potentially risky "wait-and-see" policy. Pasco high school students urged schoolchildren to throw stones at School Board members.
The butterfly, been detained by American forces and sent to Guantanamo Bay, has not had any formal charges levied against it, but President Bush has hailed its capture as "a great victory in the War on Terror."
Recommend this Story to a Friend