Sunnyvale, CA - AMD announced the release of the pentagram-shaped Socket 666 Athlon 64processor. The Athlon 64 first debuted in the Socket 754 format then AMD followed with the socket 939 form factor.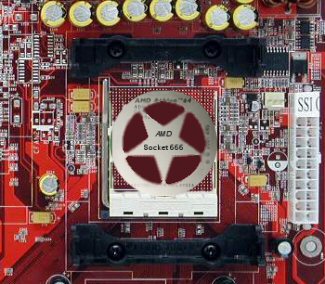 "Enthusiasts are tired of boring square processors," said AMD Vice president of Marketing Lucy DeVille. "This allows much cooler looking machines than a square processor allows."
DeVille said the new design also allows greater heat dissipation and a tenfold increase in performance at half the price of Socket 939 systems.
Many industry experts were surprised by the move since the Socket 666 processor was absent from AMD's recently released technology road map. "Companies rarely deviate from the road map, but with a technological breakthrough like this chip I'm not surprised they did," said technology analyst for Merrill Lynch Clayton Hellmuth.
Though excited by the news, computer enthusiasts have reported difficulties in acquiring goat blood needed for cooling the chip.
Many also voiced concerns about yet another form factor from AMD. "I bought a 754 board and they come out with the 939. I bought a 939 and now they come out with the 666. I'm going to go broke if they keep coming out with new chips," said AMD4life on the Anandtech message boards.
DeVille, while stroking her tail, denied making a deal with the devil to get such a large increase in performance at a lower cost, but popular Internet message boards were rife with rumors.
"I knew AMD would have to make a deal with Satan if they ever wanted to beat Intel," said Intelluvver on the HardOCP forum.
AMD's stock rose $6.66 on the news.
Recommend this Story to a Friend