Houston, TX - NASA officials announced they would be shutting down the live "Rock Cam" that they had hoped would fund their mission to Uranus.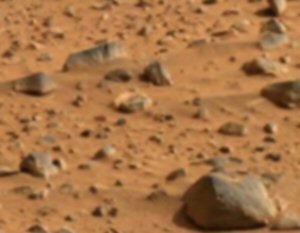 The "Rock Cam" streamed live images of the barren Mars surface to subscribers for $9.95 a month.
The webcam idea was the brainchild of a new division of NASA called NASA Ventures, which seeks imaginative ways to increase revenue of the cash strapped organization. The first two projects by the group, "Experiencing Decompression" and "The Heat of Liftoff" were also failures.
"We're not going to give up," said NASA Ventures team leader, Harold Dreissen. "We have plenty more ideas that we think will be successful like our 'How Big of a Catapult Would it Take?' exhibit."
Dreissen said there were not enough "geeks who wanted to look at motionless rocks." The bonus "Titan Cam" failed to increase subscribers despite the different color scheme.
Most subscribers were dissatisfied with the service. "I expected higher quality. The rocks were always a bit blurry and there was tremendous lag," said one subscriber on the Rock Cam message board. "You'd hear mission control sending commands to the rover, but then nothing happened for a while."
Some NASA insiders claim the failure was due to "overselling" the webcam. Early promotional material claimed "hot rock action" and "rockscapes that'll have you seeing red."
Recommend this Story to a Friend