Skywalker Ranch, CA - Contrary to earlier statements, the success of Star Wars Episode III : Revenge of the Sith has given George Lucas reason to reconsider his earlier "no more prequels" stance.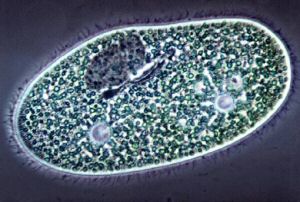 Lucas said, "There is an important story to be told and an even more important amount of money to be made in a further prequel."
The next prequel will take the saga back in time to where the intergalactic saga really began. "I wanted to tell the story of the real heroes that were only mentioned briefly in Episode I , the midi-chlorians," said Lucas.
The midi-chlorians are the tiny little subcell organisms that give Jedi knights their power. Revealed in Episode I, the existence of these creatures provided an answer to the question that had been plaguing Star Wars fans since the original trilogy.
Lucas explained, "Before Episode I the force was just this great big force thing that no one understood. Now we realize it's actually a whole bunch of teeny tiny things that no one understands"
"I felt it was important to not only tell this story but to flesh out the details of one of the Star Wars universes unsung heroes. Now we will be able to see what they are like, laugh with them, feel with them and importantly, buy their action figures."
To bring the creation of the midi-chlorians to life Lucas will take the audience back to an age when single celled organisms ruled the universe. To produce this awesome epic Lucas is turning to Pixar Studios.
Lucas will provide the creative genius, direction and plot; 10 minutes later Pixar will provide the world-class animation to bring this tale to life.
Billy Crystal will provide the voice of the fun loving midi named "Lightside" while John Goodman will play another, manipulative midi called "Darkside." It's not clear how, but these two characters become instrumental in what becomes the nature of the force.
"It's a departure from the usual Star Wars tale with no light sabers, blasters, droids, stars or wars of any sort.
There will be lots of running around, bumping into each other and a stack of musical numbers," said Lucas.
"Star Wars Episode 0 – Midi-chlorian" story will be released in theaters May 2007.
Recommend this Story to a Friend