Los Angeles , CA - In response to the Apple iTunes Music Store latest promotion, Napster is launching a countdown promotion of their own.
Napster CEO Chris Gorog has taken a leaf out of rival CEO Steve Jobs book and set about debunking the "downloads myth." "So many people are focussed on market share and numbers of downloads but we find that to be a very unfair way to measure success. We like to talk in terms of being sensitive to our customers needs and also conserving precious Internet bandwidth."
A group of 20 had been specially invited to Napster head office to share their views with the Napster CEO in person. They were asked a range of questions about what they liked and disliked about the service. When asked whether such representative focus groups are useful Gorig said, "Focus group? No these ARE the users."
With the Napster countdown promotion in full swing the excitement at Napster is mounting. "We are counting up to 25 users and we are almost there. The promotion was going a bit slowly at first with the creative MP3 player on offer as a prize. Now we have changed the prize to an iPod and and iTunes Music Store gift voucher and the numbers are flying," said Gorog.
Here are the counters from the respective services from earlier today: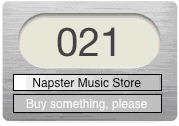 Recommend this Story to a Friend