Boston, MA – Twelve members of the Extreme Eating Association devoured forty-three Ethiopians to raise money for and bring focus to the world hunger problem.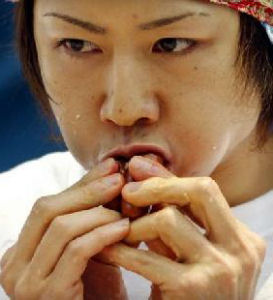 "It's the holiday season and we felt it was our duty to help the less fortunate," said extreme eater Hiram Takeshowa. "I always feel guilty that I can eat forty-five hot dogs in under twelve minutes while millions starve across the globe."
The charity eating competition drew hundreds of fans to the Centerline Shopping Center who cheered on the professional eaters.
"I thought they meant Ethiopian food, but when I saw the bus of skinny kids pull up, I knew I was in for a treat," said one spectator. "Making the eaters chase down the kids instead of having them precooked gave an advantage to the faster contestants. I felt that was a little unfair to the fat guys, but definitely more entertaining to watch."
A few of the survivors were heard muttering, "It's a cookbook! It's a cookbook!"
Takeshowa won the event with eight children devoured and fan favorite Ed "The Gut" Pescatelli, finished second with seven. "They were a bit tougher than downing doughnuts, more similar to chicken wings," said Pescatelli.
"I'm proud of all our competitors," said event organizer Roger Thornpaw. "Not only did we raise $12,000 for relief efforts and bring more focus to the problem of world hunger, but we eliminated forty-three people from the roles of the hungry."
The Extreme Eating Association is a professional organization of eaters who compete in eating competitions around the world. Extreme eating has grown in popularity around the world with its most famous event being the Nathan's Hot Dog Eating contest in New York.
Recommend this Story to a Friend