Irving , TX - Exxonmobil announced a new grade of more environmentally conscious fuel will be available at American pumps in August. The new Soylent Green line of gasoline will decrease dependence on foreign sources of oil and help solve many social problems as well.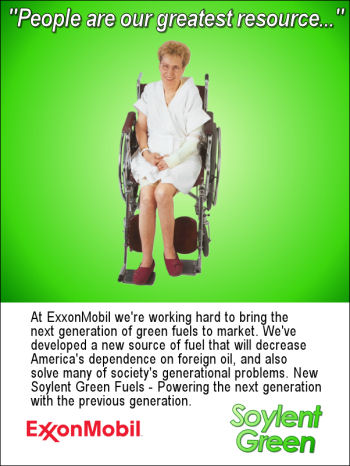 "People are our most valuable resource," said ExxonMobil Vice president of Marketing Francis Symmons. "Soylent Green fuels aren't created from finite supply fossil fuels, but from an infinitely renewable resource that is becoming a growing concern for most young Americans."
Through a patented process ExxonMobil converts people over 75 into 87 octane gasoline. The process yields a cleaner burning fuel and isn't dependent on oil from unstable foreign countries.
Bear Stearns analyst Bob Ervings who follows ExxonMobil said, "This should be a real boost to their profits. The over 75 demographic is the fastest growing in the US. Well, for now anyway."
Test vehicles that run on Soylent Green gasoline are already available in California.
"We didn't know what to do with Grandma," said Evan Skolar from Waco, Texas. "She had Alzheimer's. We couldn't afford to put her into a home, but ExxonMobil contacted us about their new Soylent Green renewable fuels home and it sounded perfect. Now Grandma is powering a new generation."
President Bush applauded the new technology saying that it could both decrease our dependence on oil and solve the looming Social Security crisis. However, he was concerned about becoming dependent on countries with surplusses of old people like Japan.
Recommend this Story to a Friend