Washington, D.C. - Americans still reeling from the earlier Daylight Savings Time change this year, will have to deal with a more radical change next year if a bill proposed by Republican Senator Mitch McConnell from Kentucky becomes law.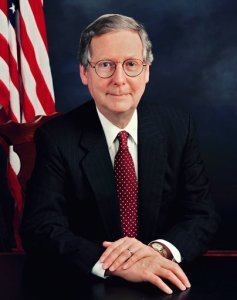 Under the Families Work Less Act, clocks would spring forward 25 hours on the second Saturday in March, and fall back 25 hours the first Wednesday of November. The effect would be one less weekend day in Spring and one more working day in the Fall. Consequently March would become a 30-day month and November would become a 31-day month.
The plan would increase American productivity by almost 1% with the additional two work days. This change would not only affect electronics, but printed calendars and the "30 days hath September" mnemonic for remembering the number of days in each month.
Senator McConnell said, "The Families Work Less act would will increase worker productivity while simultaneously taking the fight to the terrorists. They want to rob us of our freedoms, but thanks to our brave men and women of the armed services, Americans still have the freedom to work."
Opponents of the plan have proposed a compromise amendment to the bill that would add and subtract 13 hours, but superstitions about the number thirteen are certain to doom the amendment.
The change would have no effect on Senators as they already have Mondays and Wednesdays off during the entire year.
Recommend this Story to a Friend
Printer-Friendly Version