Los Angeles, CA - Futurama fans are eagerly awaiting the November 27th release of the first of four new DVDs, Bender's Big Score, but the remaining DVDs are being held for ransom in an innovative marketing campaign by Fox.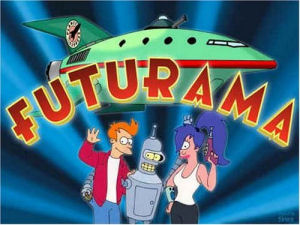 Twelve new episodes have been created, to be released as four separate DVDs. While the release date of the first DVD has been made public, the release dates of the rest of the disks are still uncertain.

Fox Television vice president of marketing, Neva Mewborn explained the plan, "Like Family Guy, Futurama was brought back by you, the consumer. If you hadn't bought all those DVDs, it wouldn't have made any sense for us to produce any more episodes. I see no reason we shouldn't stick to that formula in the future. Here's the deal: Go out and buy enough DVDs, and we'll release the next one. In that way, everybody wins: You get your cartoons, and we get your money."

If sales targets are not met, Mewborn said all the remaining DVDs will "be melted down and the toxic sludge will be poured into the water supply of a random US city."

Fan reaction was mixed. All upset by the plan responded with a "Bite my shiny metal ass." Every single one of them. The rest were just happy to have the show back.

"I can't wait for November, I just hope the release doesn't get delayed by a football game or something," said one fan.

Mewborn said the football delay was possible, but only if preorders don't reach certain sales levels.

This isn't the first time threats have been used in a marketing campaign. National Lampoon once threatened to kill a dog if you didn't buy their magazine, and on imgonnakillthiscutefuckingkitty.com site, the life of a cute kitten hangs in the balance unless enough Paypal donations are reached.